As the nation's leading independent distributor of appliances, consumer electronics, Pro A/V equipment and housewares, Almo Corporation is thrilled to celebrate 75 years of success since its founding in 1946. By holding a variety of in-person and virtual celebrations, giving back to 75 different charitable organizations, and devoting the company podcast to the 75th anniversary celebration, we are exceptionally proud of the company's dedication to distribution success. We attribute our overwhelming achievement to our employees, the Almo family, comprised of motivated leaders, exceptional ideas, and genuine connections. Throughout Almo's 75th year, we celebrate all that has come before, while looking forward to everything ahead.
By prioritizing company values and real-life connections, Almo was named a "Top Workplace in the Mid-Size Business Category" by The Philadelphia Inquirer for the eighth time. By creating a positive work environment for every employee, Almo has worked to create a top-level atmosphere to facilitate motivation and confidence.
Almo is comprised of hard-working and devoted team members, and this milestone anniversary serves as a testament to decades of success in building valuable connections and relationships. In honor of our one-of-a-kind employees, we've created a podcast series dedicated to the unique stories of the Almo team members and their experiences in the business. Hosted by Keith Mecutchen, we invite you to join us for a special inside look on the industry's happenings, while getting to know us on a personal level!
Family:
Innovation:
Integrity:
Teamwork:
Since the company's founding in 1946, Almo has prioritized the importance of serving others and giving back to both local and nationwide organizations and institutions. In celebration of over seven decades of family and teamwork, Almo is selecting 75 charitable organizations and providing them with time, talent, and donations. These organizations include the American Cancer Society, St. Jude Children's Research Hospital, the Philadelphia Ronald McDonald House, The Block Gives Back – Food Insecurity in Philadelphia, and a variety of other charitable institutions.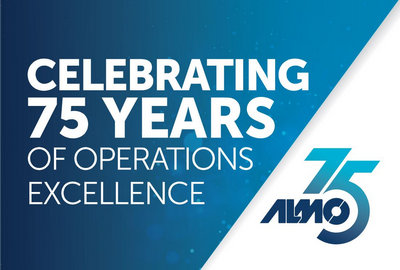 Over the past seven decades, Almo's operations employees have prioritized quality and efficiency in their dedication to company distribution. As we celebrate 75 years of hard work and success, especially throughout the past year's pandemic, Almo wishes to thank our Almo Heroes for 75 years of operations excellence.